You've decided to make improvements to your home! Yeeha! But now what?
As part of the home reno planning process, one of the best (and most fun) things you can do upfront, is putting together a vision board of the end project. 
A vision board helps crystalise your vision, making it nice and clear when it comes to talking through your plans with a builder or designer.
What is a Vision Board?
Essentially it's a collection or montage of images that visually represents the look and feel of the finished project.
How to Create Your Vision.
When creating a vision board, you can do it one of two ways. Digital or classic.
1. Classic Vision Board
Grab yourself some scissors, glue and paper. Collect magazines, real estate inserts and start scrolling Google images or Pinterest to print and cut out. Feel free to include samples and swatches from suppliers such as tile, flooring and paint stores also. 
Next, find some big project paper and start cutting out any pictures that resonate with you. 
Include style, colours, materials, words, designs and layouts. Whatever jumps out and lights you up, cut and start laying them all out on the page.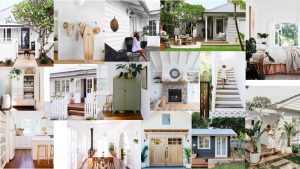 Once you've pulled together a good collection of images, you can start filtering them. Look through each picture and eliminate any that no longer bring you joy, or perhaps don't match the style or feel of the rest of your images. 
With only your favourite pictures remaining, start gluing them onto the paper. Have fun with it! Don't aim for perfection, just unleash your creativity.
2. Digital Vision Board
If arts and crafts aren't your thing, there are some great digital platforms out there to assist in building your vision board online. The most popular include Pinterest and Houzz, but even Instagram is a great platform to source inspiration. 
Find your images online by either browsing the web using specific search terms in Google or Pinterest and searching for relevant hashtags on Instagram etc
Check out our very own Fairley Constructions Pinterest board while you're there for more inspo!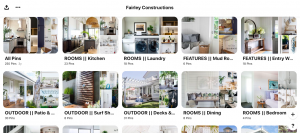 Next step is to 'collect' the images on your chosen platform to start building your vision board. Pinterest is great as you can save the images directly onto a board in your profile that you can continue to add to. You can also create multiple boards for different areas of your home for example.
Another option is to save the images directly onto a Google Slide or Powerpoint document, which you can then print off and hang up at home to refer to or even save as your desktop screen. 
Whichever you choose, delight in watching your project vision come to life! 
How do I identify what I like?
If you aren't sure where to begin when it comes to determining your style, here are some simple questions to get you thinking and visualising your future home.
What is it about your current space/home that you don't like? What do you like? 

What is your reason for renovating? What are the priorities and what is most important to you and your family?

How do you want to feel in your home? What words best describe the feeling you want to create when walking into your home?

What would make your life easier if you had them?

What things aren't necessarily essential, but would be on your wish list or make you happier? eg laundry shoot, appliance cupboard, mud room?

How long are you intending to stay at the property? How will your lifestyle change over the next five years, and what would benefit you and your family within the next five years? Eg Playroom? Entertainment room?
Once your vision board is complete, it's time to start sharing it with your designer or builder. For next steps in the renovation process head to our Renovating Your Home: How To Start article.
Got a great vision boarding tip to share? We would love to hear it. Share in the comments section below, or tag us in your vision board on Instagram @FairleyConstructions.
Happy Vision-Boarding!